Battle Royale: For Your Heart! [In Development]
A downloadable visual novel for Windows and macOS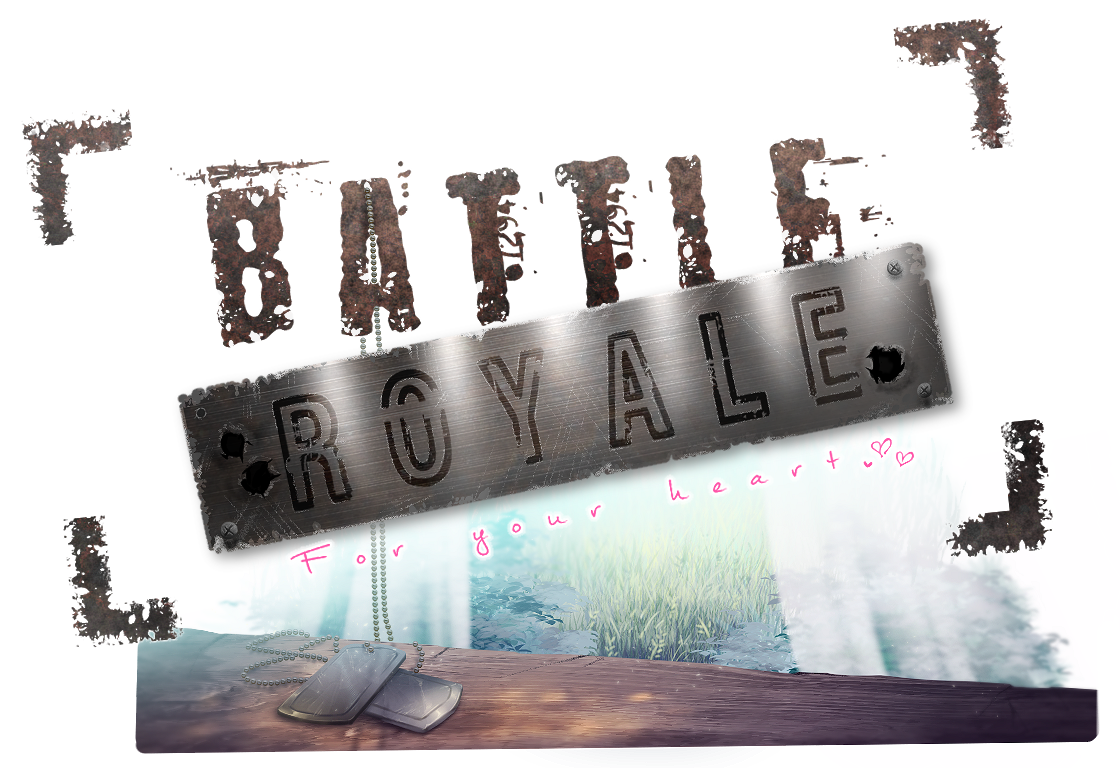 Battle Royale: For Your Heart! is a battle royale themed dating sim parody game in the works.
SamuraiStriker, a world famous streamer and professional battle royale player, invites everyone of all skill levels to join him in Legendex Games' Fighters Cup. You, a certified noob (with a heart of gold) decide that there is no other time like the present and enter the tournament. What happens next is all up to you to decide. Are you after that epic victory? Do you want the famed mystery prize? Are you trying to make friends or potentially find love along the way?
The Full Game Will Feature:
6 fully written romances with multiple endings and choices and the option to ignore romance in pursuit of a victory!
Selectable player character and voice.
Partial Voice Acting
Original Soundtrack
Personality System with several dynamics that change the game's narrative.
Custom Sprite Art, UI, and CGs.
Jokes, jokes, and more jokes.
… and more!
The Convention Demo Includes:
Selectable protagonist.
Four endings and three duo partner options
Partial voice acting.
A variety of dialogue choices.
Two original compositions/
Custom sprite art, UI, and CG.
… and more!
[Please Note: The convention demo is only a portion of the game's full demo. it includes a half hour to an hour's worth of gameplay depending on the choices you make and how quickly you read. There may be grammar (or other minor) mistakes present that have slipped our eyes. These will all be fixed in the full version of the game.]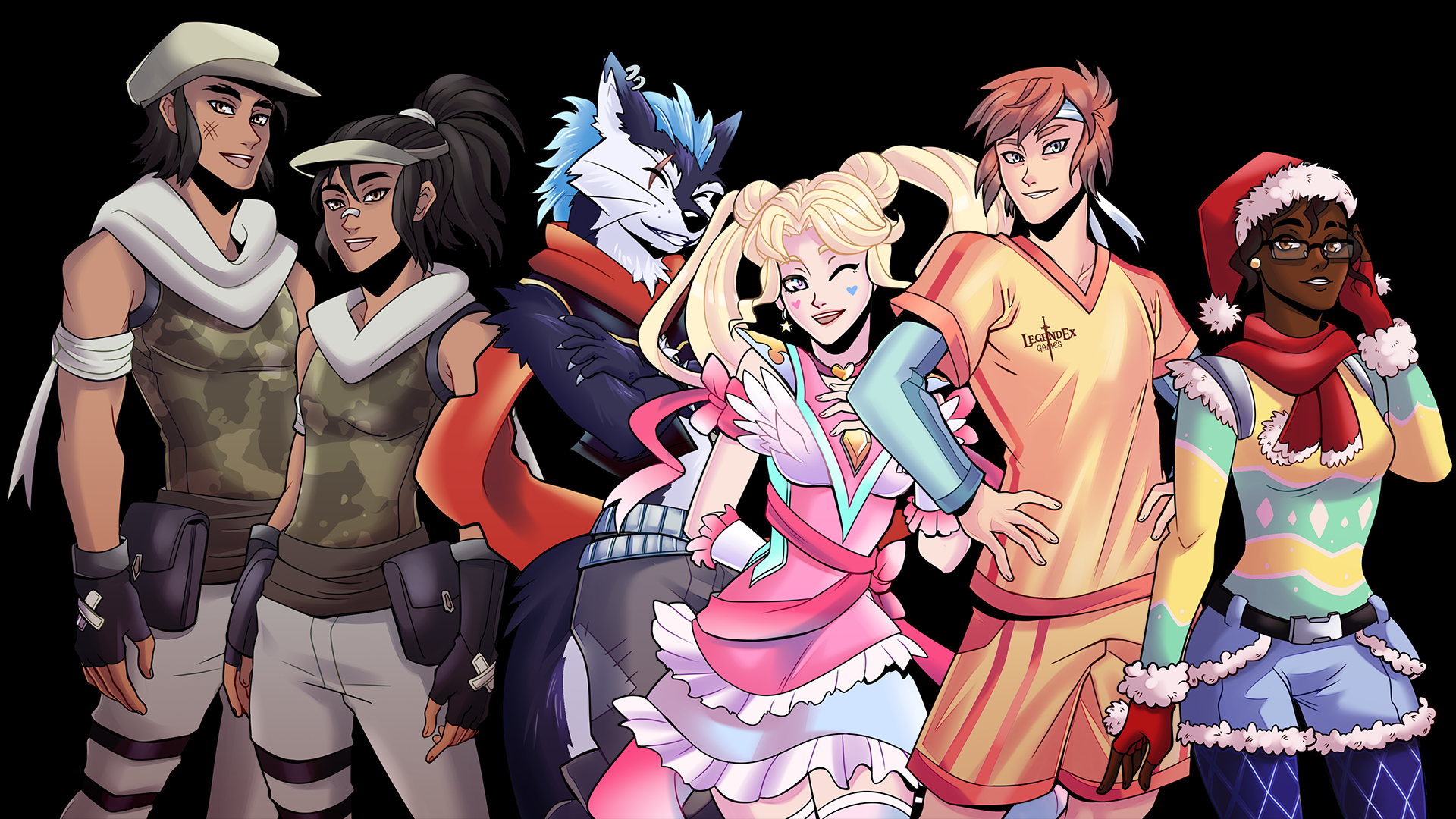 Date a diverse cast of characters with interesting backstories and attractive designs.
SamuraiStriker: Famous streamer known mostly for his playthroughs of battle royale games. He's a stark supporter of new players but that's on the screen. What's Striker like when the cameras stop rolling?
HollyDay: A new addition to the roster. Not much is known about her, and she'd love to keep it that way.
MidnightFighter: A bad ass wolf man with the brains to match his brawn. There's nothing else to say!
TwinTails: A magical girl with a heart of gold, until you decide to mess with her in which case- all I can say is run.
Default (2): Players can date the other default character they don't choose. What that entails is different depending on choices made and which character was chosen.
BRFYH is a commentary on the battle royale genre, visual novel and dating game tropes, as well as the online gaming community. The goal of the game is to not only tell an entertaining story but also make the player think about the games they know and love.
Our Team:
LegendEx [Writer, Project Lead]
Yoru Uta[Programmer]
DahliaWilder [Sprite Artist]
Fuyunokawa [background Artist]
Saibreaus [GUI Artist]
Monish Corna [Composer]
Sarah Ruth [TwinTails VA]
Reed Kriner [Default Male VA]
Anairis Q [Default Female VA]
Tom Schalk [Midnight's VA]
Lucaricross [SamuraiStriker's VA]
PixelsandPins [Voice Director]
Download
Click download now to get access to the following files:
BRFYH Convention Demo [PC]
111 MB
BRFYH Convention Demo [MAC].zip
95 MB
Comments
Log in with itch.io to leave a comment.
The art, voice-acting, and GUI are fantastic! I'm definitely down to see the complete game now.
Quick question-by 3 duo partner options, is that including the protaganist...s....? So TwinTails, Parker, and New Girl? Or is there someone else I keep missing?
Yep, that would be correct. In the upcoming extended demo you can pair up with Midnight as well and in the full game though Striker and Holly are locked as partners, they can still be romanced.
Thank you for the quick response!
I played through the demo a number of times and I really like what y'all made here! Although the protagonists' ignorance on games had me dying of second hand embarrassment. They had the time to look up forum threads on Samurai, but not to watch a youtube video on how the game worked...? Man, they're in over their heads. It's a bit strange reading from their POV-they make note of things I don't even notice anymore. It's weird enough for me I keep attempting to make explanations for it (like the MC is an army vet) , but honestly this probably really is how games seem to complete outsiders. It's fascinating and disorienting at the same time.
I'm not too into the streamer scene but some of these characters are familiar lol. Makes me feel a little weird as I'm playing, though I think that might be necessary to get your commentary on the online gaming community across. Sure, everyone was pretty nice in the "prologue" but you can see the dirty cracks with forcing TwinTails to be MC's partner and New Girl's extremely aggressive attitude.
Ah, that was another wonderful aspect to this game. I love it when the unpicked protagonist is a character unto themselves. The difference between New Girl and Parker was so extreme, although as a girl, I understand why. Still threw me pretty hard when I played as dude!MC though. I very much was expecting just a generic, fumbling noob with paranoia like back when I picked lady!MC, so it was a great surprise.
All the characters were endearing, but I am partial to Midnight. Just a decent dude, ya know? Parker also seemed sweet. Not gonna win the royale, but sweet. Wish we coulda seen more of Striker and Holly, but given the set-up it makes sense. TwinTails story with her sister and Striker intrigues me. Overall I'm hoping for some good drama to play out between members of the cast. After all, isn't that what streamers are famous for, only sometimes second to games? :P
Really looking forward to the updated demo and full game release. Keep it up!
Thank you so much for the lovely and well thought out comment! The team really appreciates the feedback and the compliments as well <3