Battle Royale: For Your Heart!
A downloadable visual novel for Windows, macOS, and Linux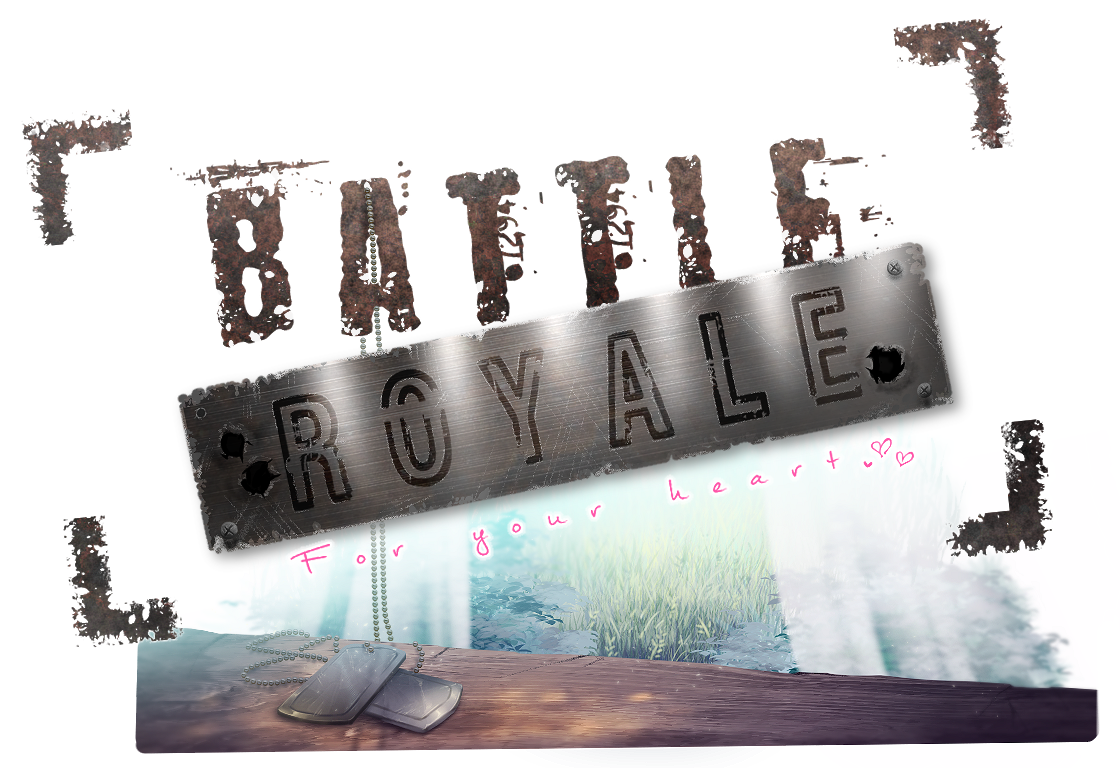 Battle Royale: For Your Heart! (BRFYH) is a battle royale themed romance parody game in development. This game is a critique on common visual novel and anime tropes, online gaming communities, and, of course, the ever-growing popularity of battle royale games.

After watching SamuraiStriker, world famous streamer and competitive battle royale player, invite gamers of all skill levels to join him in LegendEx Games' Fighter's Cup, you decide to enter the tournament to try and win the highly sought after mystery prize.
The only problem? You are a complete noob, mistakenly entered the duos tournament as a solo player, have to scramble to find a partner, and attempt to win the competition!
Select your avatar, player voice, gamertag, and possible duo partner, as you venture into an expansive virtual world alongside a colorful cast of characters. It is up to you to decide how the game unfolds. Unlock hidden scenes, build a bond with your partner (or enemies!) and try to win the competition!
The completed game will feature:
6 romance routes with an option to remain solo
Selectable avatar with voice options
Partial voice acting
Interactive Map and Mini-Map
OST by Monish Cortona
A story that changes based on your decisions!
.... and more!
The Extended Demo Includes:
Selectable protagonist, voice, gamertag
60k+ words of content (2-3 hours of gameplay depending on the route you take)
Two explorable locations beyond the lobby (depending who you partner with)
Partial voice acting.
A variety of dialogue choices.
Four original compositions
Action packed battle scenes (on certain routes)
Custom sprite art, backgrounds, UI, and CG.
… and more!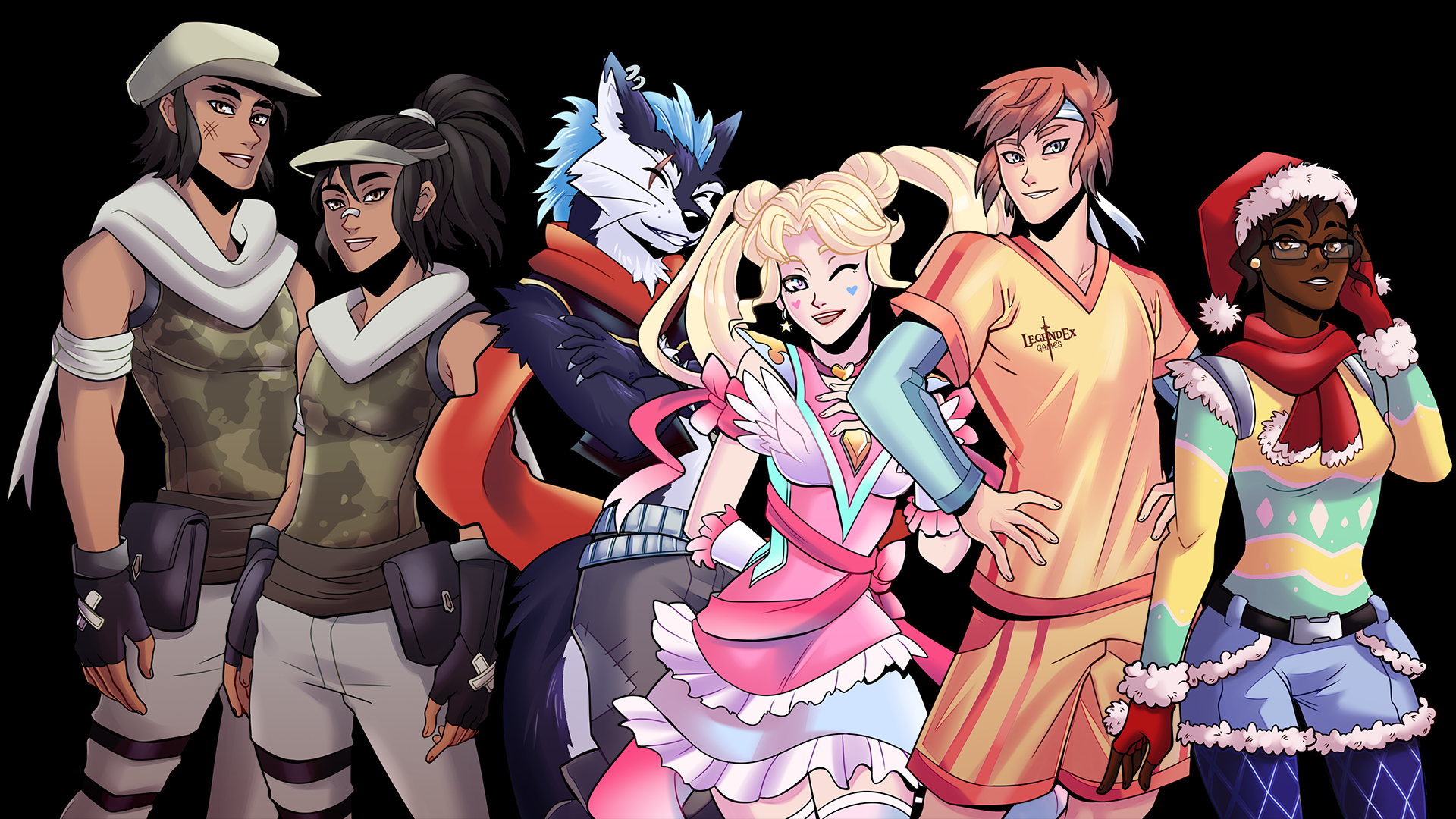 Date a diverse cast of characters with interesting backstories and attractive designs.
Choose your player's appearance, voice, and gamertag. You're a new player on the battle royale scene and don't know much about the game or virtual world. Navigate the routes in order to learn about the game mechanics, your partner, and the world around you.

A possible partner and romance option if you choose to be the female main character. Parker considers himself an inexperienced player despite having played in a few unranked battle royale matches before. Parker is more concerned with creating a fun experience for himself and his partner than winning the tournament.
The player is able to name this character. She becomes a romance option if you choose to be the male main character. She is very standoffish and defensive about her play style. The female noob is determined to prove her skills and that she shouldn't be judged by her basic avatar.
For the most part, Midnight takes a relaxed approach to life... though this doesn't apply to certain things which he feels very strongly about. Sometimes he'll slip up and remind you that he is indeed not "one of the young ones" but tries to hide this because he doesn't want people to think that you can't teach an old dog new tricks.

TwinTails is a peppy, vibrant girl who lights up the room… until you do something she doesn't like. Her happy-go-lucky persona drops and is replaced with a scary woman. Still, one can't help but be enchanted by her...

Striker is a famous streamer. He started as a competitive player in esports but has long since watered down his content for his younger audience. Striker has a dual persona. On stream, he plays the part of a hero, trying to garner more attention and views. Off camera, he's a little bit different. Which side will he show you?

Holly is a no-nonsense kind of woman. She's focused on winning the battle royale and won't let anything stop her. Being hyperfocused on the win leaves others thinking she has a chilly personality, but in reality, Holly is a caring and compassionate person. She just funnels that energy into being the best at what she does: winning battle royale games.
Our Team:
LegendEx [Writer, Project Lead]
Yoru Uta[Programmer]
DahliaWilder [Sprite Artist]
Fuyunokawa [background Artist]
Saibreaus [GUI Artist]
Monish Corna [Composer]
PixelsandPins [Voice Director]
Sabrina Marie @k0torisan [Editing]
Sarah Ruth [TwinTails VA]
Reed Kriner [Default Male VA]
Anairis Q [Default Female VA]
Tom Schalk [Midnight's VA]
John Patneaude [SamuraiStriker's VA]
Lane Rush [Voice of Male MC]
Kieran Flitton [Voice of Male MC]
Elsie Lovelock [Voice of Female MC]
Nola Klop [Voice of Female MC]
Matt Raftis [Voice of Announcer]
Trent Martin [Voice of NPC]
Gareth Farr [Voice of NPC]
Leader Looi [Voice of Snipes]
Samuel Parish [Trailer Editor]
| | |
| --- | --- |
| Status | In development |
| Platforms | Windows, macOS, Linux |
| Rating | |
| Author | LegendEx Games |
| Genre | Visual Novel, Interactive Fiction |
| Tags | Anime, Dating Sim, Female Protagonist, Male protagonist, Otome, Parody, Romance, Story Rich |