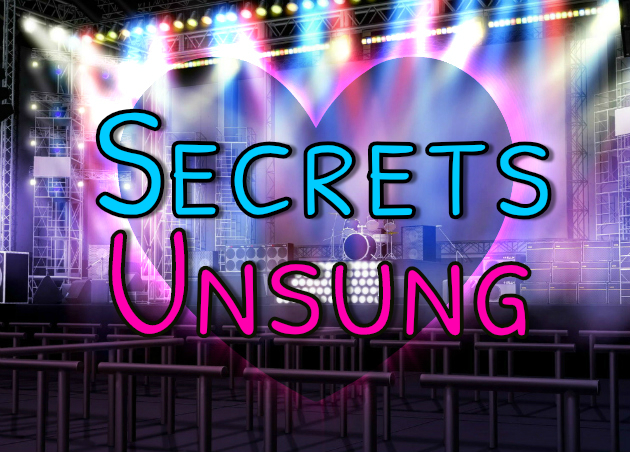 Secrets Unsung
A downloadable Visual Novel for Windows and macOS
(This game was made in a few months for the Otome Game Jam)

Synopsis:
Calista is your average 25 year old grad student. She wakes up early, goes to class, comes home to study, and then falls asleep. Her monotonous world is shaken up when the world famous rock star, Balder Parisi, makes his return to the small town of Vestis. Will she try to rekindle an old flame with the singer, or will she fall into the arms of another man? It's up to you to decide her fate.
Characters:
Calista: A 25 year old grad student studying art history and humanities, Calista is a no-nonsense girl. She is focused on her school work and often has a tendency of pushing people away (even if she doesn't mean it).
Balder Parisi: Son of a famous classical musician and company owner, Rory Parisi, Balder has always been destined for the limelight. He and Calista used to date and now that he's coming back to Vestis...what will that mean for the pair?
Kiran: Kiran is a student at the University of Aurea. He's a guitarist and singer in a band. Something draws him to Calista, but will she be responsive to his flirtatious advances?
Secrets Unsung is an alternate reality version of the game Secrets Untold. You don't need any prior knowledge to enjoy this game, as it is completely standalone. But, if you enjoy the characters check out the original game here.
The Beta Secrets Unsung V1 Features:
Strong Female Protagonist
Several Custom Music Tracks
Partial Voice Acting (for a single scene)
Six full endings
Two date-able guys
Original Sprite Art
25,000+ words
Meet the Team:
Writer, Project Lead: LegendEx
GUI Artist: Potouto (CC GUI-Modified)
Programmers: Yoru
****For full credits, check out the credits document packaged with the game.****
PLEASE NOTE: This is the beta version of the game, so there will be bugs, grammar mistakes, missing audio files and the like. We wanted to make sure we got a game out in time for the end of Otome Jam. Stay tuned for upcoming updates which will have fixes to all of these problems. The game is still playable through all paths and endings.
Secrets Unsung V2 will include original songs written and composed by Kowara and sung by the voice actors of Balder and Kiran. It will also include grammar fixes, bug fixes, add additional sound effects and more.
If you enjoy this game please consider leaving a rating or a comment.
Comments
Log in with itch.io to leave a comment.
I haven't gotten all the endings yet but this was really great! The characters and art look absolutely amazing! And so is this story! I really loved Calista and felt for her when she talked about her past. And even though in my first playthrough I got Balder's friendship route I honestly loved it! I think Balder's my fav since I really just liked how natural his route seemed and I'm a sucker for love interests who have history. I can't wait to play again and get his romance ending! but honestly 10/10 for character design cuz ngl them boys real attractive ;))
Thank you for the lovely comment!I'm glad you enjoyed the game 💕 In the coming week we'll be updating the game with bug fixes and adding some more music and sound effects, so keep an eye out.
if only it was available on windows